I swear that I have to be the last person to get my box this month! But I was naughty and I already snuck peaks at everyone else's so I wasn't surprised at all.
I actually really enjoy this box just because it had a make up item in it. I prefer trying make up to face products and hand lotions. It's just not really my thing bc I have sensitive skin and a regime that I follow and I rarely change from it.
BIRCHBOOOOX can you please do MORE make up products!!! I don't want another hand lotion, perfume sample, or hair product!
Orofluido - Beauty Elixir
We don't know what we love more - this hair treatment's trio of nourishing essential oils (argan, linseed, cyperus) or its intoxicating vanilla amber scent.
Befine - Lip Exfoliator
A lip healing wonder: Befine's gentle Lip exfoliator sloughs away flakes and cracks to leave lips velvety.
Caudalie - Vinoperfct Cell renewal Night Cream
A rich moisturizer that uses a patented grape compound to exfoliate and brighten skin so that you wake up looking perky.
Laura Geller - Spackle Tinted Under Makeup Primer in Bronze
This hydrating primer gives you a flawless foundation for makeup - plus a subtle glow. It works on all skin tones.
Extra: Oribe - Shampoo & Conditioner for Beautiful Color
The ultra lux duo doesn't just stop hair color from fading ; it also replenishes dehydrated strands and adds a glossy sheen.
Here are some other blogger's boxes!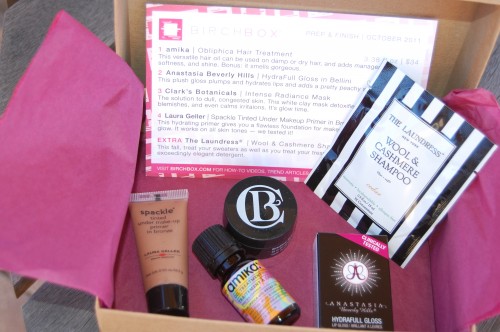 The Stylish Housewife - link
Bloomin Beauty - link
TIgirlyly Konadicures - link